Whole 30 Month – Day 14, 15, 16, & 17
Welp. It's official. The Whole 30 is now boring LOL. Ok, not really, but we have gotten into a routine where I'm hardly thinking about it anymore. It also doesn't help that for un-diet related reasons I haven't been feeling good or feeling like eating. (I'm ok…it happens every month).
Actually, I was really hoping the intestinal distress that comes with this time of the month would be significantly better on an eating routine change, but it's still been sucky. Though, I've definitely had worse months so I guess it's some improvement?
Anyway, still don't miss cheese though I do miss booze. Namely social drinking. Maybe I just miss being social. Hell, we could probably be drinking water and I'd be happy as long as it was with people outside of my housemates (don't get me wrong…I love my housemates but I want to see DIFFERENT people).
The TLDR Version
We have eaten stuff. And made things. We have convinced Eric to buy an air fryer and a juicer…thanks, sugar daddy! Or, I guess in this case anti-sugar daddy because we are learning to make our own chips and juice WITHOUT added sugar! Either way, it was nice to have juice!
Our dinners for the last day have been:
Day 14 (Jan 24)
Mahi-Mahi Fish tacos w/ cassava tortillas and avocado cilantro lime dressing. We left out the cilantro for Eric…that weirdo.
Some notes on the cassava flour tortillas:
They are so cool! Chewy like flour and have a neat flavor.
They are time consuming to make.
They should be eaten fresh.
You can put them in the air fryer and make GF pita chips
3/4 members of our household recommend them over corn or flour
Day 15 (Jan 25)
Eric-Safe Ground Turkey Stuffed Peppers
I'm not sure if stuffed peppers are my thing, with rice or without. They had a good flavor and are filling, but for some reason they just don't excite me. Also, replacing rice with more veggies like zucchini was kinda weird. IDK not my favorite.
Day 16 (Jan 26)
More like a white chicken tortilla soup. Man I wish we'd had some of those cassava pita from Monday. It was good though but a little thin. Probably could've added potatoes to thicken it up. It was even better the next day too!
Day 17 (Jan 27)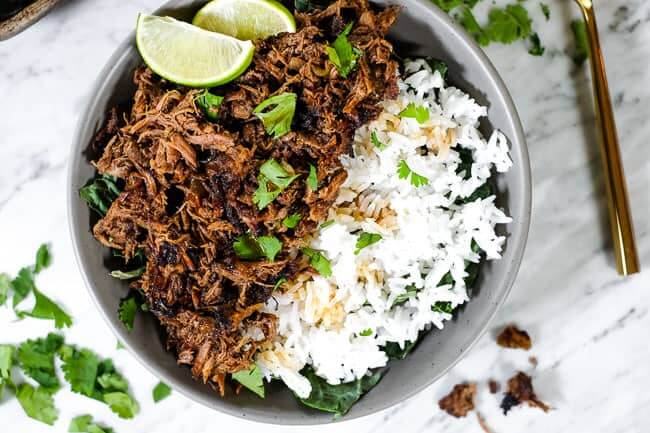 Beef Barbacoa Bowls w/ Cauliflower Rice and Greens (aka Qdoba W30 copycat bowl).
Eric thought it was a little too sweet but we did marinate it in orange juice (fresh squeezed!). And the addition of cloves was interesting but IMO worked well! Way better than Qdoba!
The Whole (30) Story
I don't have much more from the last few days. I've been hiding & exhausted and alternately staring at the screen regretting my life and spending hours on my webpage update (and apparently getting the post removed from a FB writers group after asking for advice on it. Apparently I was "marketing" ¯\_(ツ)_/¯).
Either way, I did it all for you…you ungrateful hooligans.
Shameless plug time: peruse the rest of my website! There's tons of new writing resources as well as old projects given new life. Lastly, I put some of my crappy art and bomb-ass apocalypse photoshoot pics up as well.
I'll be adding more content periodically so check back soon!
The Menu
Day 14 (Jan 24)
Breakfast
Sweet Potato Pancakes
Uncured Pork Belly "baconish" (not really bacon but still tasty) from Costco
Pan fried tomatoes
Avocado
Eggs
Lunch
RX Bar
Maybe something else…can't remember
Dinner
Mahi Mahi tacos
Guac and Pineapple/Mango Salsa
Day 15 (Mon, Jan 25)
Breakfast
Raspberries w/ coconut cream
Coffee
Lunch
Leftover Greek Chicky Nuggies w/ buffalo sauce
1/2 Avocado
Grapefruit
Olives
Day 16 (Tues, Jan 26)
Breakfast
Raspberries, blueberries, blackberries w/ Coconut cream & no-grain granola
Grapefruit
Coffee
Lunch
Stuffed Pepper Filling
Avocado
Nuts'n'seeds'n'seeds'n'nuts
Dinner
Beef Barbacoa Bowls
Cauliflower Rice & Greens
Guac and salsa (some of the leftover pineapple/mango salsa from Monday)
Day 17 (Weds, Jan 27)
Breakfast
Scrambled eggs w/ W30 ketchup (or "the gods' gift to the no-sugar-added club")
Lunch
Leftover White Chicken Chili
Carrots
Sunflower Seeds
Fresh squeezed apple juice
Dinner
W30 White Chicken Chili
Fruit
So we are definitely getting into a routine which is good I hope. Maybe this will carry over when we're done!